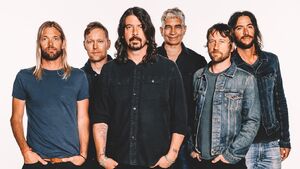 Foo Fighters are an American rock band from Seattle, Washington, formed in 1994. Drummer Dave Grohl formed the group as a one-man project after the dissolution of his previous band, Nirvana, in 1994. Prior to the release of the band's eponymous debut album in 1995, Grohl drafted two members from the former band Sunny Day Real Estate, Nate Mendel as bassist and William Goldsmith as drummer, as well as fellow Nirvana bandmate Pat Smear as guitarist to complete the group. The band was small and young, and began with performances in Portland, Oregon, before gaining popularity. Goldsmith left during the recording of the group's second album, The Colour and The Shape (1997), and Smear's departure followed soon afterward. They were replaced by Taylor Hawkins and Franz Stahl, respectively, although Stahl left before the recording of the group's third album, There is Nothing Left to Lose (1999).
Chris Shiflett joined as the band's third guitarist after the completion of There is Nothing Left to Lose. The band released its fourth album, One By One, in 2002. The group followed that release with the two-disc In Your Honor (2005), which was split between acoustic songs and harder-rocking material. Foo Fighters released its sixth album, Echoes, Silence, Patience & Grace, in 2007. Later that year, guitarist Pat Smear rejoined the band and they released Wasting Light in 2011 and Sonic Highways in 2014. Keyboardist Rami Jaffee became an official band member in 2017, having been a session and touring keyboardist for the band since 2005. The band will release their ninth studio album Concrete and Gold in September 2017.
Over the course of the band's existence, four of its albums have won Grammy Awards for Best Rock Album, and as of 2015, the band's eight albums have sold 12 million copies in the U.S., and 30 million worldwide.
Foo Fighters

Discography, Dave Grohl, Taylor Hawkins, Nate Mendel, Chris Shiflett, Pat Smear, William Goldsmith, Franz Stahl, Rami Jaffee
Albums
Foo Fighters, The Colour and The Shape, There is Nothing Left to Lose, One By One, In Your Honor, Echoes, Silence, Patience & Grace, Wasting Light, Sonic Highways, Concrete and Gold
Ad blocker interference detected!
Wikia is a free-to-use site that makes money from advertising. We have a modified experience for viewers using ad blockers

Wikia is not accessible if you've made further modifications. Remove the custom ad blocker rule(s) and the page will load as expected.